Giannis Antetokounmpo emerged victorious in a duel between two of the NBA's most athletic players as he unleashed an almighty dunk over Blake Griffin.
Although Griffin outscored Antetokounmpo by 31 to 15, it was the Greek Freak who went home with bragging rights.
Not only did Antetokounmpo's Milwaukee Bucks cruise to a 115-92 victory over the Detroit Pistons, but the MVP-favourite produced the play of the night at Griffin's expense.
Attempting to defend Antetokounmpo on the baseline, Griffin leapt in an attempt to block the 24-year-old, but only succeeded in giving away a foul as the ball was viciously dunked on him.
Antetokounmpo's 27 points per game, along with averages of 13 rebounds and six assists, have led the Bucks to a 16-7 start and second place in the Eastern Conference.
Click the video at the top of the page to watch Antetokounmpo's dunk, then click the video below to watch the rest of the top plays from Wednesday night's NBA action, including rim-rocking dunks from Russell Westbrook and Lonzo Ball.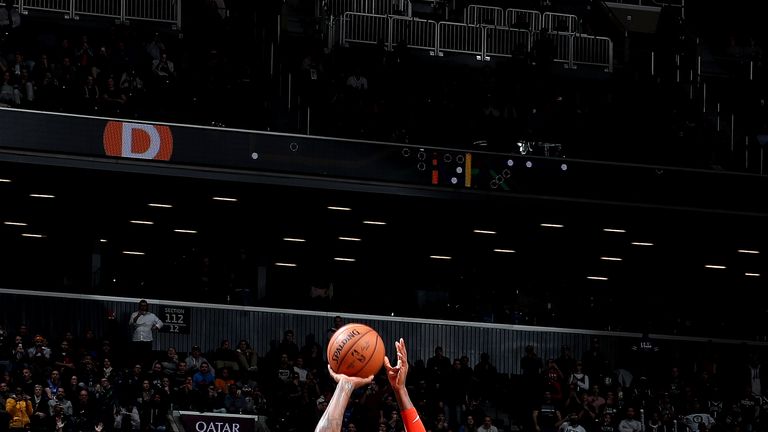 Wednesday night's results
Golden State Warriors 129-105 Cleveland Cavaliers
Denver Nuggets 124-118 Orlando Magic
Washington Wizards 131-117 Atlanta Hawks
Oklahoma City Thunder 114-112 Brooklyn Nets
Philadelphia 76ers 102-113 Toronto Raptors
Los Angeles Clippers 86-96 Memphis Grizzlies
Detroit Pistons 92-115 Milwaukee Bucks
Charlotte Hornets 104-121 Minnesota Timberwolves
Dallas Mavericks 106-132 New Orleans Pelicans
San Antonio Spurs 113-121 Los Angeles Lakers
Sky Sports is the new home of the NBA in the UK with live coverage throughout the week, including selected live games free to all Sky subscribers via Sky Sports Mix.
And www.skysports.com/nba will be your home for news, reports, video and features throughout the season while you can follow us @SkySportsNBA