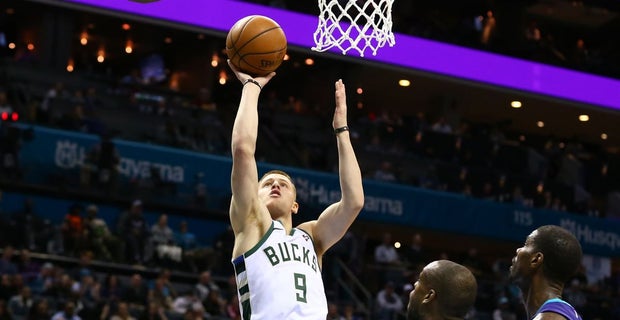 Donte DiVincenzo was the only former Villanova Wildcat star to see the floor in an NBA game on Friday night – here is a look at how he did, who is injured and what is on the docket for the weekend:
The Boston Celtics grabbed a win over the visiting Atlanta Hawks in Boston last night, 129-108.
Former Cat and current Hawks rookie big man, Omari Spellman was out of action again with a hip injury.
For the season, Spellman is averaging 18.2 MPG, 6.3 PPG, 4.5 RPG, 1.0 APG, and 0.6 BPG on 38.6% FG shooting, 31.7% 3PFG shooting and 75% free-throw shooting.
Meanwhile, in Cleveland, the Milwaukee Bucks, led by 44 points from Giannis Antetokounmpo, defeated the Cavaliers, 114-10.
Donte DiVincenzo earned 23 bench minutes for the Bucks and scored 6 points on 3-7 FG, 0-3 3PFG and 0-0 FT. To round out his stat line, DiVincenzo added three rebounds (one offensive), three steals and two blocks. He didn't commit any turnovers and finished the game with a +8 plus/minus.
Check out all six of Donte's points in these highlights:
Left-handed finish in transition for DiVincenzo:
Donte gets crafty with it!! ?? #FearTheDeer pic.twitter.com/xvbJFsJof1


— Milwaukee Bucks (@Bucks) December 15, 2018
Donte dunk in half-court off a nice dish:
That's how you move the ball ??#FearTheDeer pic.twitter.com/2ARaEr6tQF


— Milwaukee Bucks (@Bucks) December 15, 2018
There is a Donte steal and break-away bucket in here:
The best plays from tonight's victory in Cleveland!!#FearTheDeer pic.twitter.com/QNL30jarjH


— Milwaukee Bucks (@Bucks) December 15, 2018
For the season, DiVincenzo is averaging 17.2 MPG, 5.5 PPG, 2.8 RPG, 1.3 APG, and 0.2 BPG while shooting 40.4% from the floor, 25.4% from three-point range (needs to fix that), and 81.8% from the free throw line.

The Toronto Raptors suffered a 128-122 loss at the Portland Trail Blazers. KAwhi Leonard scored 28 points in his return to action for the Raptors
Kyle Lowry sat out the game with a left thigh bruise.
So far this season, Lowry is averaging 34.2 MPG, 14.2 PPG, 4.4 RPG, 10.0 APG and is shooting 43.6% FG, 33% 3PFG and 83.3% FT.
Here is the weekend schedule of NBA games potentially featuring former Villanova Wildcat stand-outs:
Saturday, December 15
7:00 PM ET
FOX SPORTS SOUTHEAST – CHARLOTTE, SPECTRUM SPORTSNET, 710 AM ESPN / 1330 AM ESPN DEPORTES
Los Angeles Lakers (Josh Hart) at Charlotte Hornets
Spectrum Center Charlotte, NC
8:30 PM ET
KENS, WGN-TV, WSCR-AM 670 / UNIVISION CHICAGO 1200 AM
Chicago Bulls (Ryan Arcidiacono) at San Antonio Spurs (Dante Cunningham)
AT&T Center San Antonio, TX
9:00 PM ET
FOX SPORTS ARIZONA, FOX SPORTS NORTH, ARIZONA SPORTS 98.7FM / KSUN 1400AM (ES), 830 WCCO
Minnesota Timberwolves at Phoenix Suns (Mikal Bridges)
Talking Stick Resort Arena Phoenix, AZ
Sunday, December 16
3:00 PM ET
YES, FOX SPORTS SOUTHEAST – ATLANTA, WCBS 880 AM, V-103 FM
Atlanta Hawks (Omari Spellman) at Brooklyn Nets
Barclays Center Brooklyn, NY
6:00 PM ET
NBCSWA, SPECTRUM SPORTSNET, 1500 AM, RADIO DISNEY 1110 AM / 99.1 FM
Los Angeles Lakers (Josh Hart) at Washington Wizards
Capital One Arena Washington, DC
7:00 PM ET
FOX SPORTS SOUTHWEST – DALLAS, NBC SPORTS CALIFORNIA, KHTK SPORTS 1140 AM
Sacramento Kings at Dallas Mavericks (Jalen Brunson)
American Airlines Center Dallas, TX
8:00 PM ET
ALTITUDE, TSN, TSN, KKSE-FM 92.5/KKSE 950, TSN RADIO 1050 TORONTO
Toronto Raptors (Kyle Lowry) at Denver Nuggets
Pepsi Center Denver, CO
For breaking news and notes on everything Villanova basketball, Villanova football and Villanova athletics:
SIGN UP for the FREE VUSports Newsletter
For the best inside Villanova basketball, football and sports info and for the best Villanova basketball and football recruiting coverage in the galaxy:
SUBSCRIBE to VUSports for Insider Info on everything Villanova Sports: CLICK HERE