The evolution of Brook Lopez from traditional NBA 'big man' to jump-shooting center has reshaped the Milwaukee Bucks and helped propel them to the top of the East, writes Mark Deeks.
The center position in the NBA has been re-imagined over the past few seasons. Not as much as the power forward position, admittedly, but in tandem, the evolution of the two 'big man' positions has been the main strategic shift within the NBA in the 21st century.
The days of using post-based power forwards such as Horace Grant, Anthony Mason and Shareef Abdur-Rahim alongside strong but slow seven foot centres are pretty much over. The contemporary template for power forwards these days involves starting from the perimeter and initiating possessions by facing the basket.
Live NBA: Milwaukee @ Houston
Thursday 10th January 1:00am
As the advent of analytics and video capture technology has greatly expanded the coaching knowledge base, the value of the three-point shot and floor spacing from every position on the court – as well as the need to be able to defend opponents doing the same – has made post players become much more comfortable away from the basket, and with dribbling and shooting. They still have the same height they used to have, but they must have higher skill levels now, in all areas of the court.
Up to and including last year, the Milwaukee Bucks did not much follow this orthodoxy. Their center tandem last season of John Henson and Thon Maker sorely lacked for these perimeter skills.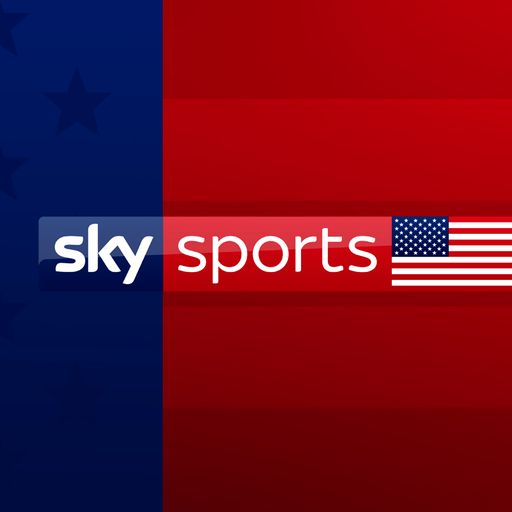 Get Sky Sports USA
Want to watch the NFL or NBA on the Sky Sports USA channel? Upgrade here
Over the past summer, however, they signed Brook Lopez. It is supposed to be impossible to find a big man that is effective offensively on a high volume of three-pointers while also being a difference maker on defence, especially to do so for cheap. But that is what exactly the Bucks have done.
The free agency market for 'big men' has shrunk massively in the past two seasons. Notwithstanding the significant difference in available salary cap space that there was to spend, veteran big men received new contracts totalling over $1.06 billion in the summer of 2016, compared to only $402m this season.
And of that $402m, $171m went to Nikola Jokic and Clint Capela alone. The rest were thus left to fight for $235m combined, near-enough the amount James Harden's new contract will pay him alone.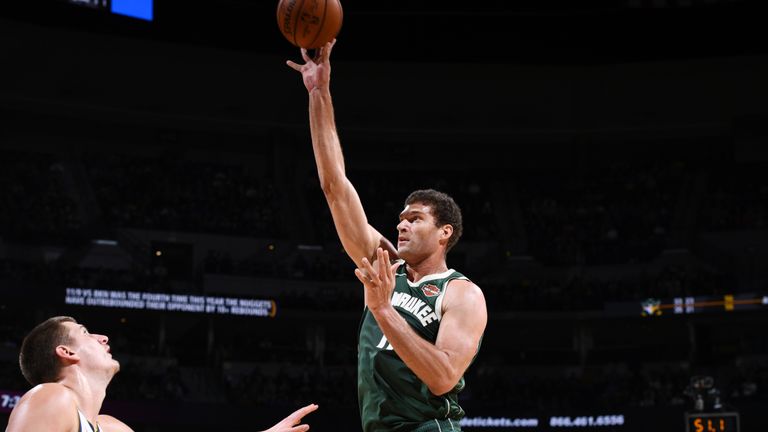 Image:
Brook Lopez fires a jump hook against the Denver Nuggets
That market correction is how a player as good as Brook Lopez was able to be signed for a mere $3.382m. By NBA standards, that is nothing. As a point of comparison, the third-stringer behind him, Jason Smith, a player used so rarely that not even many Bucks fans will remember he is on their team, is signed this year for $5.45m. Smith was a 2016 signee. How the playing field has changed.
As well as being a yardstick for this, Lopez is a very good example of the aforementioned new on-court orthodoxy, as he has gone through the post-to-perimeter transition as much as anybody. For many years a 20+ or near-20 points per game scorer, Lopez did it inside the arc, one of the most skilled post-up bigs in the game who flanked it with a mid-range jump shot but nothing from further out than that.
Now, though, his offensive game is defined by the three-pointer. At the time of writing, Lopez has taken 26 three-pointers in January alone – this from a man who shot only 31 threes in his first eight seasons combined! He is not just a new age jump-shooting center. He is the new age jump-shooting center.
1:43
Highlights of Milwaukee Bucks' 114-102 win over the Utah Jazz
Over the last three years, almost all centres have incorporated this tool into their games. The list of those who once shot the mid-ranger but who have learnt to stretch their range reaches across all levels – Nikola Vucevic, Paul and Marc Gasol, down to players like Dewayne Dedmon and Alex Len of the Atlanta Hawks, Cody Zeller and Willy Hernangomez of the Charlotte Hornets, and even the aforementioned John Henson, who showed up this season with some new straight-on three-point range he had never had before.
But Lopez was one of the first converts, and by far the most prominent.
As an individual, Lopez averages 12.4 points, 4.0 rebounds, 1.0 assists, 1.0 turnovers and 0.5 steals per game. He is shooting 37.5 per cent on three-pointers, and three-pointers represent 69.9 per cent of his total shot attempts.
Wednesday night's game
Indiana Pacers @ Boston Celtics, 12am
Philadelphia 76ers @ Washington Wizards, 12am
Atlanta Hawks @ Brooklyn Nets, 12:30am
Milwaukee Bucks @ Houston Rockets, 1am, live on Sky Sports USA
San Antonio Spurs @ Memphis Grizzlies, 1am
Cleveland Cavaliers @ New Orleans Pelicans, 1am
Phoenix Suns @ Dallas Mavericks, 1:30am
Orlando Magic @ Utah Jazz, 2am
Chicago Bulls @ Portland Trail Blazers, 3am
Detroit Pistons @ Los Angeles Lakers, 3:30am
Take away the blocks, and those numbers are nigh-on identical to late career Peja Stojakovic (13.3 PPG, 4.3 RPG, 1.2 APG, 0.9 SPG, 37.8 per cent three-point shooting in the 2008/09 season). But even Peja's three-point rate that year was only 53.4 per cent.
Lopez is both symptomatic of, and one of the driving forces behind, the league-wide three-point explosion.
Of course, though, we should not just take away the blocks, as they are as big of a part of what he offers as his shooting. It is precisely Lopez's ability to score this effortlessly from outside while also defending around the basket that has helped propel the Bucks to the upper echelons of the East.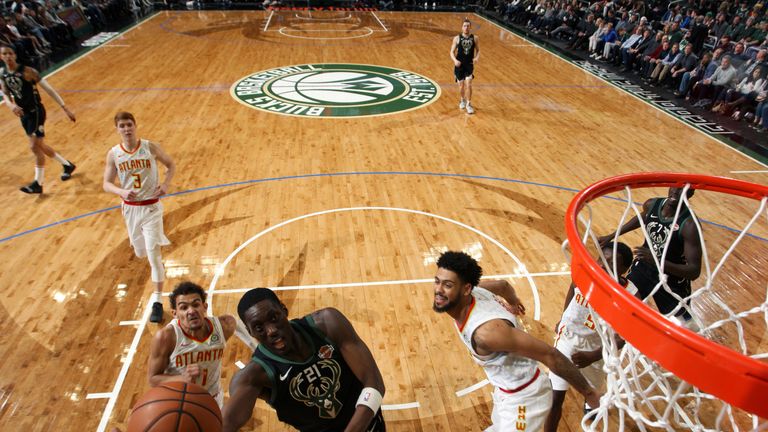 1:53
Highlights of the Milwaukee Bucks' 144-112 hammering of the Atlanta Hawks
Lopez's value to the team is not best measured by his individual numbers. Rather, it is the way that his presence has reshaped his team. Beyond the addition of Lopez, the Bucks have returned largely the same playing roster as last season, yet they have gone from a second-tier playoff team to the very top.
Giannis Antetokounmpo, Khris Middleton, Eric Bledsoe and Malcolm Brogdon are good-to-great scorers off the dribble, and a very talented foursome, but they are also all average-to-below-average shooters. The Bucks' offense was regularly bogged down because no one opened it up.
This season, however, they have enjoyed much-improved efficiency in their offensive play that goes beyond the offseason coaching change. To be sure, Mike Budenholzer's track record with the Hawks and resultant offensive diversification plays a big part in that. But Budenholzer could only expand the playbook in these ways if he had the personnel with which to do it.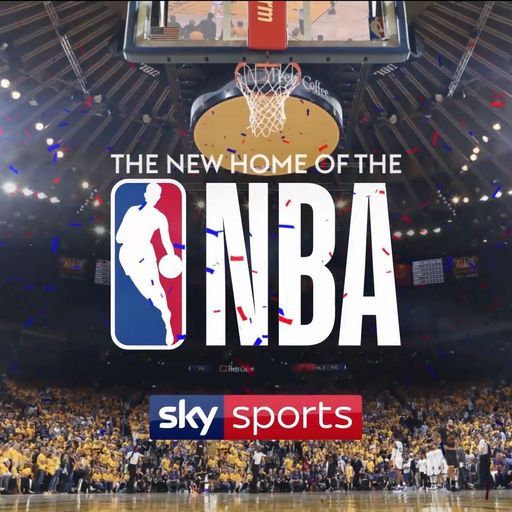 Get NBA news on your phone
Want the latest NBA news, features and highlights on your phone? Find out more
Adding the versatile presence of Lopez at the centre spot spaces the floor for Giannis to attack in the half court as well as he does in transition, and to run pick-and-pop plays for the pick, freeing up guards on the drive. Lopez's shot is unblockable, and his touch on it excellent – it doesn't matter if defenders know it is coming.
Although never grabbing many rebounds himself, Lopez is also a part of why the Bucks have become the league's best rebounding team. He boxes out, creating opportunities for others to board, and sticks to the interior on defence, shoring up last year's biggest hole. He bodies up other strong interior players, nullifying the small-ball punishers like Jusuf Nurkic and Andre Drummond, while stretching them back on the other end.
It is a very successful diet of size and touch that very few others possess.
Lopez staying at home in the paint allows Giannis to freely roam around it, and between the two, the Bucks have probably the best interior defence in the league. Not something you could also say of Peja.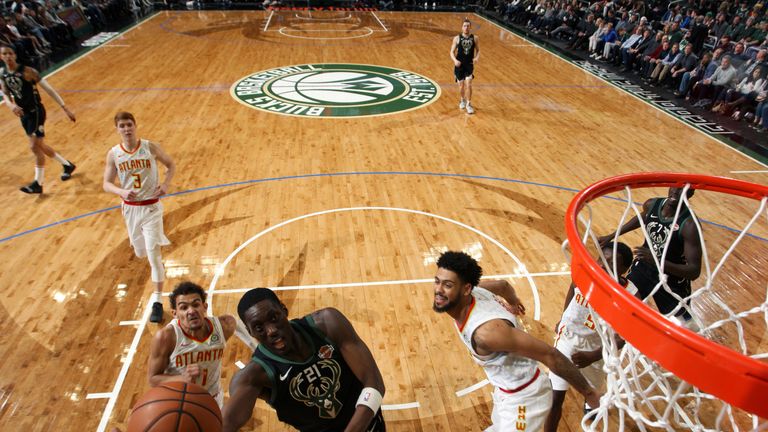 1:53
Highlights of the Milwaukee Bucks' 144-112 hammering of the Atlanta Hawks
There are limitations on the success of this line-up, and on Lopez himself. The great size that makes him such a good interior defender unfortunately confers slow feet, and he cannot defend perimeter-orientated centers, despite being one himself.
Lopez is a successful reimagining of 'big ball', but he cannot play small ball, and line-ups featuring Giannis, resurgent sophomore DJ Wilson or hopefully-resurgent Thon Maker at center to better defend opposing pick-and-roll coverage will be needed.
Lopez, his fit, and the Bucks in general, are not perfect. But they are much changed, all for the better.
And all that for $2m less than the third-stringer behind him. Now that's good business.
Want to watch the NFL or NBA on the Sky Sports USA channel but don't have Sky Sports? Get the Sky Sports Action and Arena pack, click here.