Jayson Tatum and Marcus Morris combined for 52 points as the undermanned Boston Celtics beat the New Orleans Pelicans to earn their sixth successive win.
Monday night's results
New Orleans Pelicans 100-113 Boston Celtics
Minnesota Timberwolves 108-116 Golden State Warriors
Cleveland Cavaliers 92-108 Milwaukee Bucks
Detroit Pistons 102-116 Philadelphia 76ers
Washington Wizards 101-109 Indiana Pacers
Sacramento Kings 108-89 Chicago Bulls
Utah Jazz 113-122 Oklahoma City Thunder
Orlando Magic 76-101 Dallas Mavericks
Memphis Grizzlies 99-105 Denver Nuggets
Los Angeles 123-119 Phoenix Suns (OT)
Miami Heat 105-108 Los Angeles Lakers
New Orleans Pelicans 100-113 Boston Celtics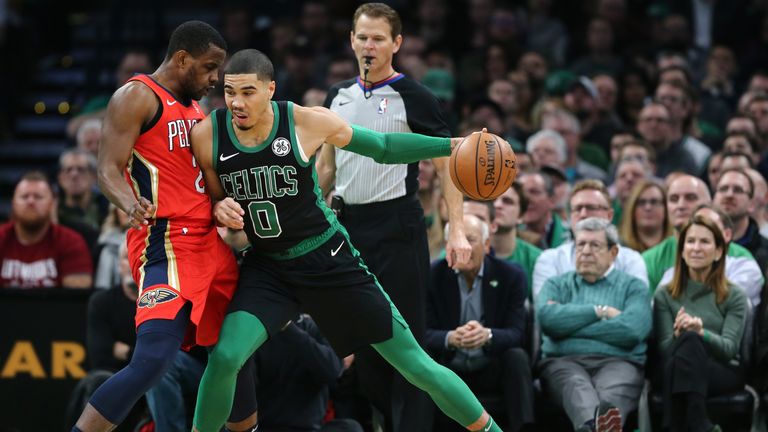 Marcus Morris and Jayson Tatum combined to score 52 points as the short-handed Boston Celtics won their sixth game in a row by defeating the visiting New Orleans Pelicans 113-100 on Monday night.
Morris scored 31 points and Tatum added 21 to lead the way while five Celtics sat out the game because of injury or illness, including Al Horford (knee), Kyrie Irving (shoulder) and Gordon Hayward (illness).
Jaylen Brown scored 19, Semi Ojeleye had 11 and Terry Rozier added 10 for the Celtics. Despite the absences, the Boston reserves outscored their New Orleans counterparts 41-21.
All-Star forward Anthony Davis led New Orleans with 41 points – his fourth game with 40-plus points this season – and Julius Randle chipped in 20 points and 11 rebounds.
The Celtics led by six at half-time (59-53) and Morris made three three-pointers in a row to start the third quarter, giving Boston a 68-55 lead.
The lead grew to as many as 15 points on two occasions before New Orleans got within 83-72 at the end of the third quarter but that was the closest the Pelicans would get.
Minnesota Timberwolves 108-116 Golden State Warriors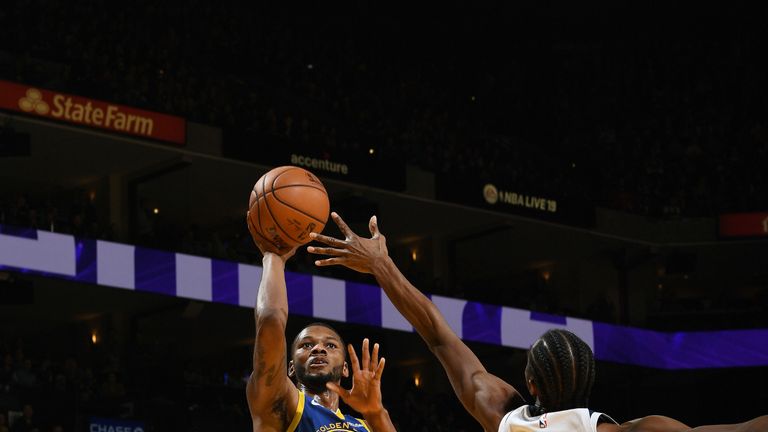 Draymond Green returned from an 11-game absence with a solid all-around performance, and Stephen Curry led a barrage from three-point range with a game-high 38 points, lifting the Golden State Warriors to a 116-108 victory over the Minnesota Timberwolves.
Green, who had seen the Warriors go just 6-5 while he recovered from a bruised toe, contributed seven points, 10 rebounds and seven assists to Golden State's fourth straight win.
Karl-Anthony Towns paced Minnesota with 31 points and a game-high 11 rebounds.
The Warriors led by just six at half-time before easing away in the second half on the strength of three-point shooting.
Green put in 29 minutes in his return. He finished with the game's best plus/minus rating (plus-11).
Curry hit 7 of 14 from beyond the arc, while team-mates Kevin Durant and Klay Thompson combined for eight more, helping Golden State outscore the Timberwolves 57-21 on three-pointers by hitting 19 of 43 from beyond the arc.
Curry, who returned from a groin injury during the Warriors' recently complete trip, topped 30 points for the ninth time this season.
Thompson finished with 26 points and Durant 22 for the Warriors.
Cleveland Cavaliers 92-108 Milwaukee Bucks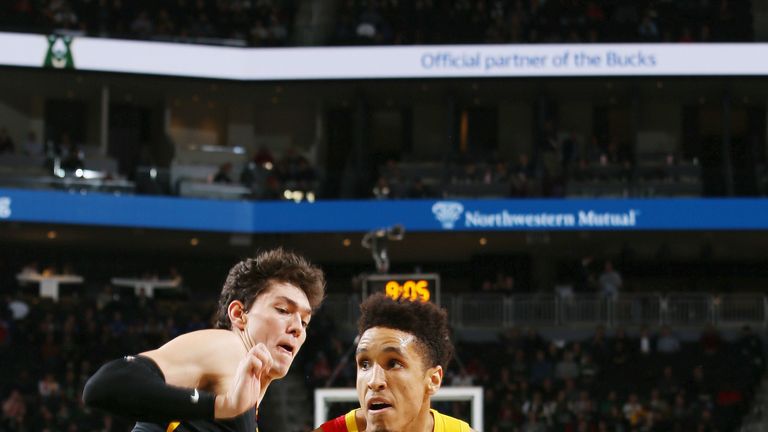 Eric Bledsoe had 20 points, 12 rebounds and five assists to lead the Milwaukee Bucks to a 108-92 win over the visiting Cleveland Cavaliers.
Malcolm Brogdon added 18 points, five rebounds and five assists for the Bucks. Khris Middleton chipped in with 16 as the Bucks connected on 15 of 36 three-point attempts.
The Bucks were playing without Giannis Antetokounmpo who missed the game because of a sore neck. Ersan Ilyasova got the start for Antetokounmpo and supplied nine points and seven rebounds.
Larry Nance Jr led the Cavs with 16 points and rookie Collin Sexton added 15. Tristan Thompson, who had 16 double-doubles coming into the game, finished with 12 points and six rebounds.
Detroit Pistons 102-116 Philadelphia 76ers
Joel Embiid scored 24 points as the Philadelphia 76ers beat the visiting Detroit Pistons 116-102 on Monday night despite losing Jimmy Butler to a strained groin.
Ben Simmons added 18 points, 10 rebounds and seven assists, Furkan Korkmaz contributed a career-high 18 points and TJ McConnell had 14 for the Sixers, who improved to 14-1 at home.
Butler got hurt with 2:20 remaining in the first quarter and didn't return. He missed all three of his shots from the field and wound up scoreless in nine minutes after having scored 38 points in each of the previous two games.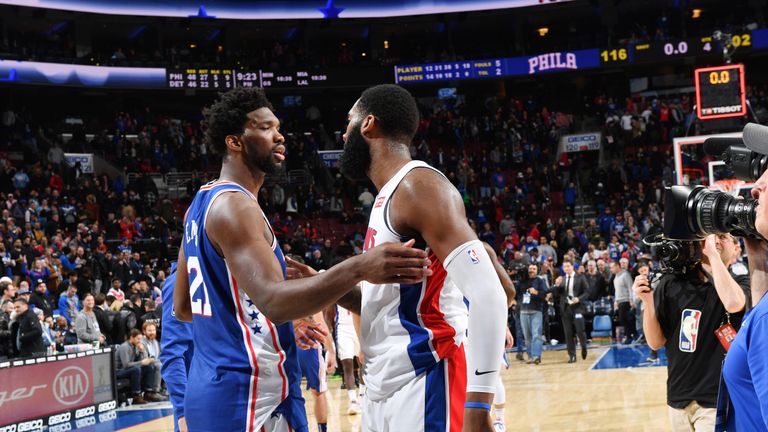 Luke Kennard scored a career-high 28 points while Andre Drummond added 21 points and 17 rebounds for the Pistons, who have dropped five in a row. Reggie Jackson contributed 15 points and seven assists.
The Pistons played without guard Ish Smith (adductor injury) and All-Star forward Blake Griffin, who was rested by the team.
Washington Wizards 101-109 Indiana Pacers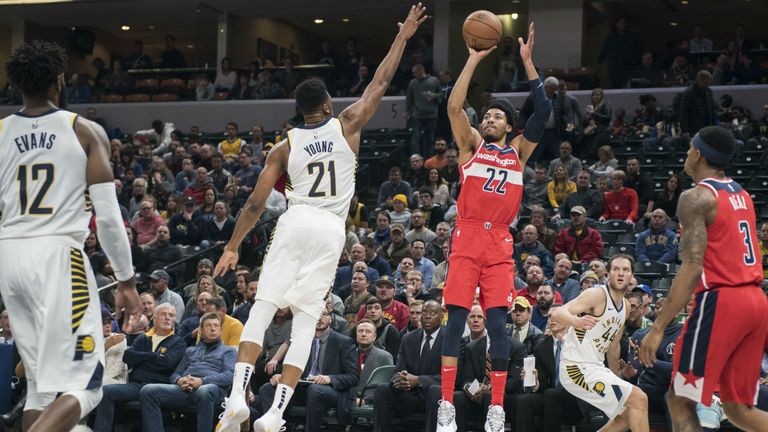 Myles Turner had 26 points and 12 rebounds and Bojan Bogdanovic added 22 points as the Indiana Pacers held off the visiting Washington Wizards 109-101 for their fourth straight win.
Tyreke Evans scored 18 points for the Pacers, who squandered all but one point of a 25-point third quarter lead. Darren Collison had 17 assists.
Bradley Beal, the reigning Eastern Conference Player of the Week, led Washington with 30 points and Kelly Oubre Jr added 23 off the bench.
The Wizards played without point guard John Wall (bone spur, left heal).
Indiana won despite committing 23 turnovers to 12 for Washington. The Pacers outrebounded the Wizards 50-34.
Sacramento Kings 108-89 Chicago Bulls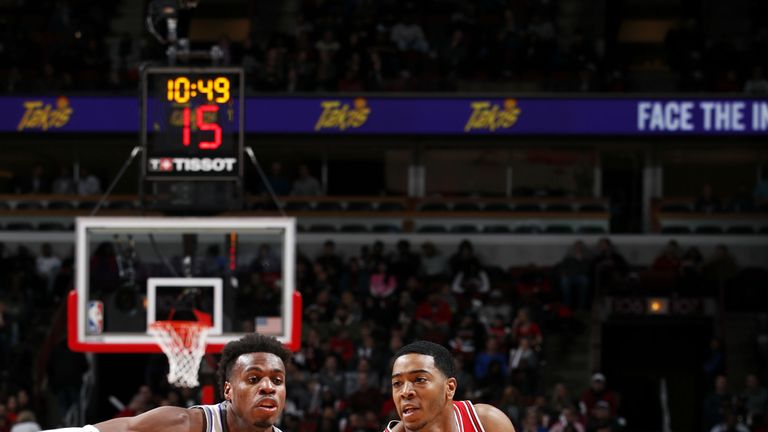 De'Aaron Fox recorded 25 points, six assists and four steals to help the Sacramento Kings notch a 108-89 victory over the host Chicago Bulls.
Bogdan Bogdanovic and Marvin Bagley III each added 16 points for the Kings, who won for the fourth time in the past five games.
Iman Shumpert had 14 points and four steals, Buddy Hield also scored 14 points and Willie Cauley-Stein matched his career best of 16 rebounds while recording 11 points and three steals.
Zach LaVine scored 19 points and Lauri Markkanen added 13 for the Bulls, who have lost nine of their past 10 games.
Chicago scored just 33 second-half points on 12-of-34 shooting.
Utah Jazz 113-122 Oklahoma City Thunder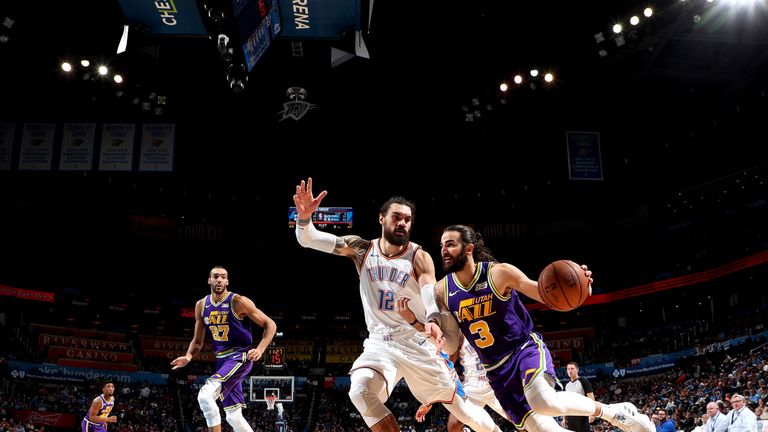 Paul George scored an efficient 31 points as the Oklahoma City Thunder beat the visiting Utah Jazz 122-113.
George was 8-of-10 from the field and 5-of-6 from three-point range, scoring 17 of his points during the Thunder's 42-point third quarter.
Late in the third quarter, Utah's Jae Crowder flipped over a pass in the direction of Donovan Mitchell. But George was there by the time the ball arrived, picking off the pass and starting a rush the other way, which ended with George lobbing the ball to Jerami Grant for a thunderous dunk to put Oklahoma City up 92-67.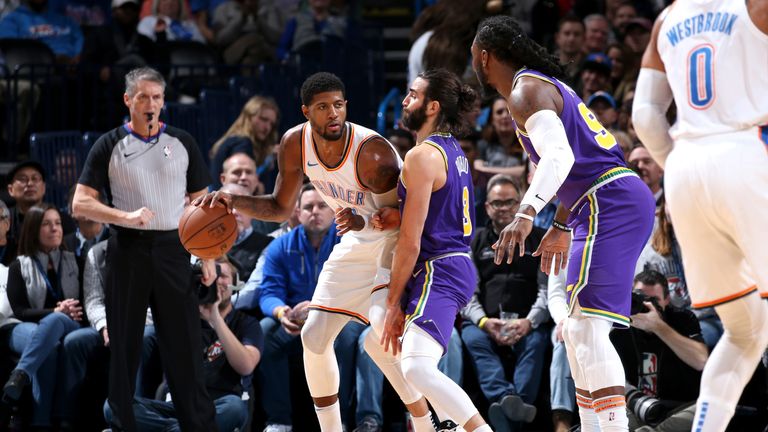 Russell Westbrook struggled offensively but still managed his third consecutive – and 110th career – triple-double. Westbrook finished with 12 points, 11 rebounds and 10 assists but made just four of his 18 shots.
Dennis Schroder added 23 points off the bench and Steven Adams added 22 for the Thunder.
Orlando Magic 76-101 Dallas Mavericks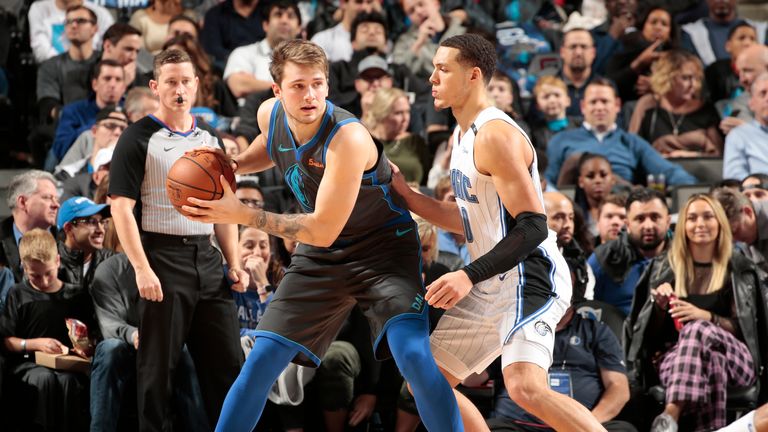 The Dallas Mavericks made it 10 wins in a row in front of their home by making a mockery of the Orlando Magic with a wire-to-wire 101-76 victory.
Dallas led 24-19 after the first quarter and 52-40 at the half. If the Magic had any notion of climbing back in the second half, Dallas stamped that out quickly as Wesley Matthews, Harrison Barnes and then Jalen Brunson buried three-pointers for a 61-44 lead.
Five minutes later it was 70-48 and as the Magic and their offense put on a disappearing act.
Barnes led Dallas with 19 points that included 15 on three-pointers. The rookie Brunson, starting again in place of the injured Dennis Smith Jr, contributed a career-high 17 points on 7-of-9 shooting.
Luka Doncic nearly recorded his first career triple-double, although a somewhat ugly one, with career highs of 11 rebounds and nine assists to go with just seven points on 2-of-11 shooting.
The Magic's only offensive threat was Jonathon Simmons, who scored 18 points.
Memphis Grizzlies 99-105 Denver Nuggets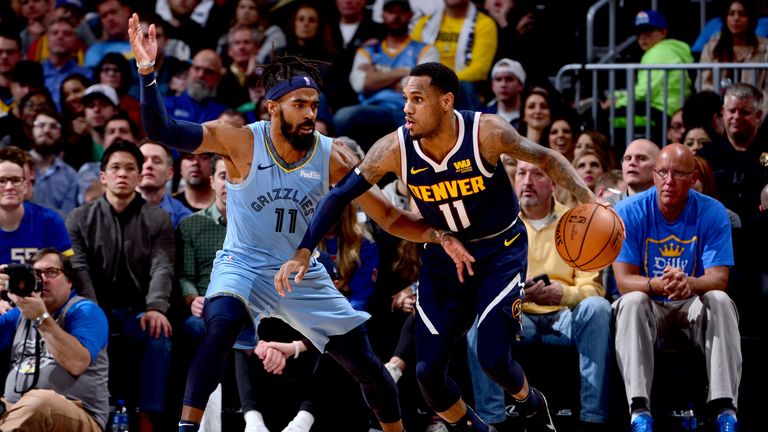 Nikola Jokic had 27 points and 12 rebounds and Monte Morris scored 20 off the bench as the host Denver Nuggets beat the Memphis Grizzlies 105-99.
Jamal Murray scored 16 and Mason Plumlee had 12 points and 10 rebounds for the short-handed Nuggets.
Mike Conley shook off a dislocated right finger to lead Memphis with 19 points and JaMychal Green had 13 points and 10 rebounds for the Grizzlies.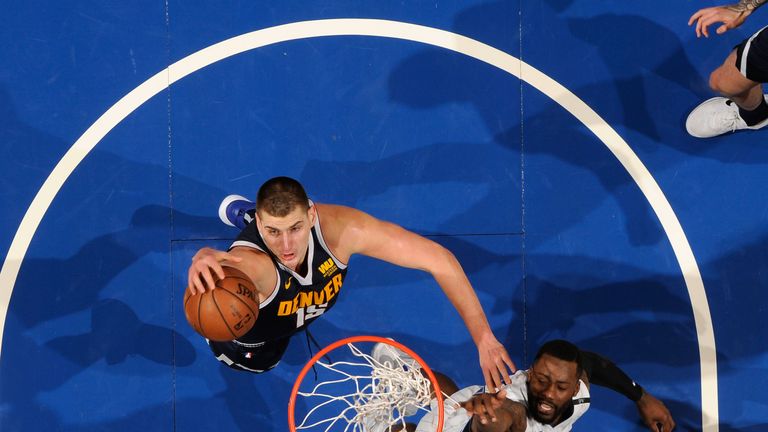 Marc Gasol hit two free throws and Conley converted a three-point play to bring the Grizzlies within 98-97 in the final minutes.
They had a chance to take the lead after forcing two airballs but couldn't convert.
Murray split a pair of free throws to make it a six-point game as Denver closed out the win.
Los Angeles 123-119 Phoenix Suns (OT)
Tobias Harris had 33 points and eight rebounds as the visiting Los Angeles Clippers ended a two-game losing streak with a 123-119 overtime win over the Phoenix Suns.
Danilo Gallinari scored 25 points and Shai Gilgeous-Alexander had 16 for the Clippers.
Deandre Ayton contributed 20 points and 12 rebounds while Richaun Holmes (19), Mikal Bridges (19) and Josh Jackson (18) all scored their season highs for the Suns, who have lost nine straight games.
Phoenix never led in overtime. Troy Daniels tied the game 119-119 with 51.3 seconds left on a reverse lay-up, but Patrick Beverley made two free throws with 33.3 seconds left and Avery Bradley sank two more with 1.6 seconds remaining for the final margin.
Miami Heat 105-108 Los Angeles Lakers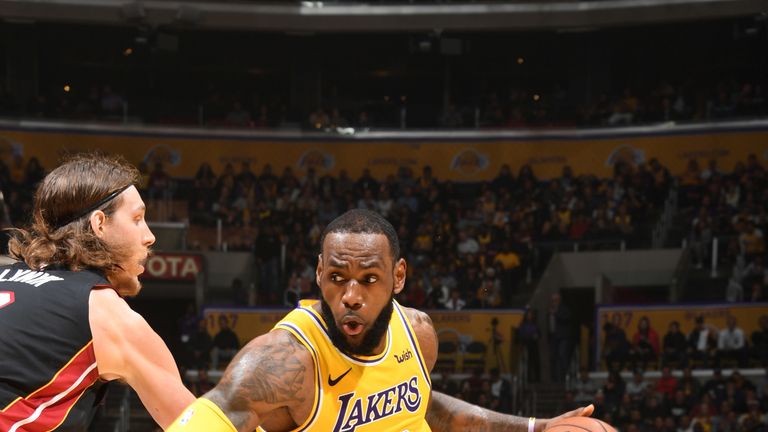 Kyle Kuzma scored 33 points and LeBron James added 28 as the Los Angeles Lakers held off the visiting Miami Heat 108-105 for their sixth victory in seven games.
In his final game at Los Angeles, and his final matchup against former team-mate James, Dwyane Wade produced 15 points and 10 assists.
Wade, who is retiring after the season, didn't score his first points until five minutes remained in the third quarter. He ended the night 0-for-7 from three-point range.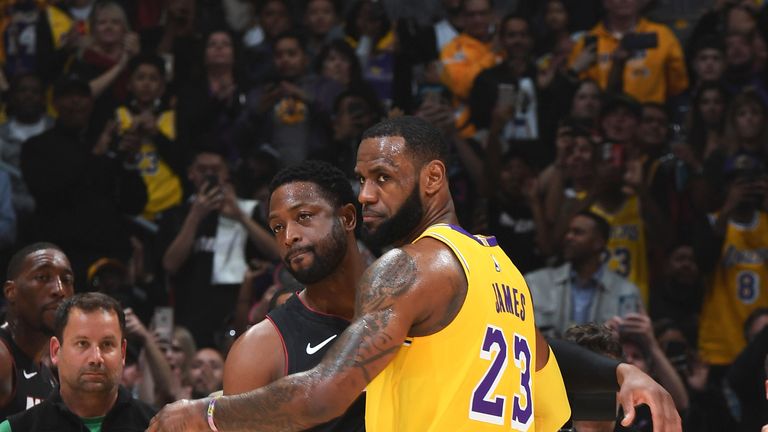 Justise Winslow led the Heat with 28 points on 11-of-20 shooting from the field, including 6-of-10 from beyond the arc. Bam Adebayo scored 12 points and grabbed 10 rebounds for Miami.
James was 10 of 19 from the field and added nine rebounds and 12 assists, just missing out on his second triple-double with the Lakers.
Sky Sports is the new home of the NBA in the UK with live coverage throughout the week, including selected live games free to all Sky subscribers via Sky Sports Mix.
And www.skysports.com/nba will be your home for news, reports, video and features throughout the season while you can follow us @SkySportsNBA